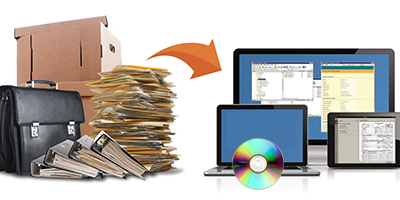 INTRODUCTION
A wealth of information resides in archive, libraries and record offices. Paper based storage of information is no longer always an ideal solution.
In all organisations, managing records is a crucial to core operations, since records are good business practice for risk management, they serve as evidence to protect against claims of liability or other litigation the organisation may face in the future.
Record management imposes a large administrative burden to most organisations to employ manpower to analyze, sort, and store different types of records generated day to day, taking up significant amount of storage space to archive the huge flow of paperwork.
DISADVANTAGES OF PAPER-BASED STORAGE
Its potential for destruction is higher i.e. Mildew, Fading, etc
It takes up expensive storage space as it requires specific storage conditions, e.g. fireproof and humidity controlled premises, etc.
It is costly and cumbersome to manage.
WHAT WE DO FOR YOU
We help you create an efficient, secure and paperless storage by digitally capturing, indexing and archiving important business records in a document management system.
Our team scans and digitalises your business documents such as contracts, reports, technical drawings. We can digitalize any size from A4 to A0 into a user friendly PDF format.
The digital documentation will be filed in particular order appropriate to your organisations requirements.

SECURITY
Document specific levels can be assigned to control which users and department can access the Digital advice and what documents can be viewed.

ADVANTAGES AND BENEFITS
Improves business workflow and productivity
Efficient management of high volumes of paper
Increases knowledge management
Backs up documents in events of disaster such as fire, floods or theft
Maintains an Audit Trail for regulatory compliance
Finds documents in minutes
Reduces administrative expenses for document management
Saves money and space on physical storage
Saves the usage of paper volume saving trees and friendly to the environment
Reduces storage space
Documents can be reprinted if necessary
Preservation of very old and important documents - scanning quality is such that the reprinted documents can be substitutes
HOW MUCH DOES IT COST TO STORE YOUR PAPER RECORDS?
Information has been stored on paper for hundreds of years, yet we estimate that every page you hang on can cost you up to 40 cents per year just to store it. Current developments in Image and Archiving technology now makes it possible to convert your paper records to digital format, easily and accurately.
The images of about 300,000 A4 pages (600 reams of paper - approximately 4 cubic meters) can be sotred ona single DVD and a removable hard disk costing approximately KShs. 12,000/- can hold at least 300 million images.